Apps = daily life for children globally, regardless of social class, economic class, religion, culture. How do we balance protection & promotion of opportunities? Here I share recent research & thoughts…
Our lives online: Social media use by children and adolescents — opportunities, risks and harms, Commissioned by UNICEF East Asia and the Pacific, February 2020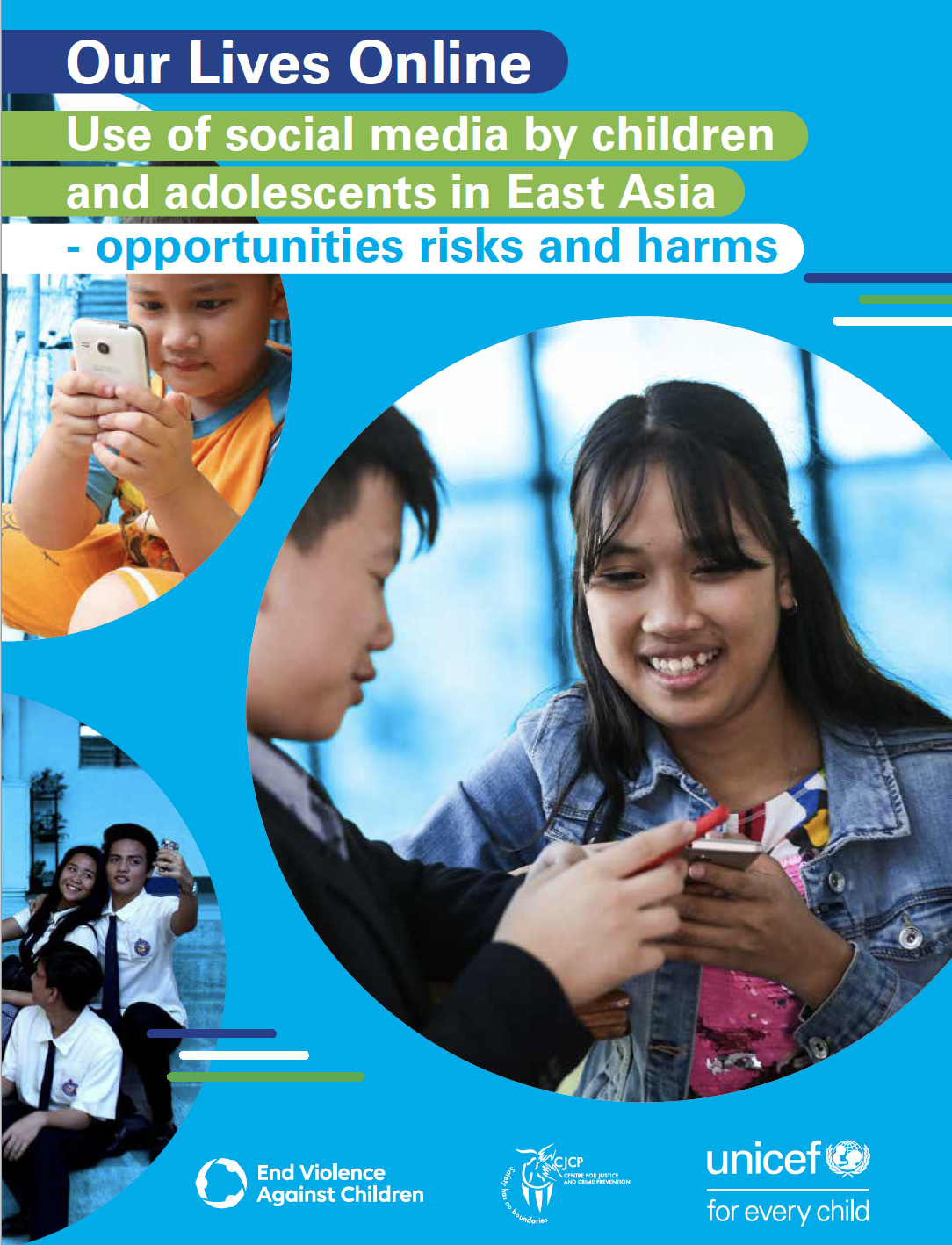 This study is a snapshot of children's use of social media in East Asia, focusing on four countries: Cambodia, Indonesia, Malaysia and Thailand. The research incorporates the experiences of 301 children across the four countries, including 121 street children and refugees, collected through a series of focus group discussions and participatory exercises. The qualitative data collected was supplemented by a confidential anonymous self-administered 20-item questionnaire completed at the end of the focus
group discussions.
While more is arguably known about how children in middle- and high-income families use social media, those from lower income families, marginalized children, children with disabilities, street children and
refugee children are often excluded from conversations on their use of social media and online safety. This study explicitly attempted to include the voices of children from these populations. These were supplemented by discussions with parents, grandparents, caregivers and frontline workers including social workers, counsellors, child psychiatrists and educators
Economist, January 2019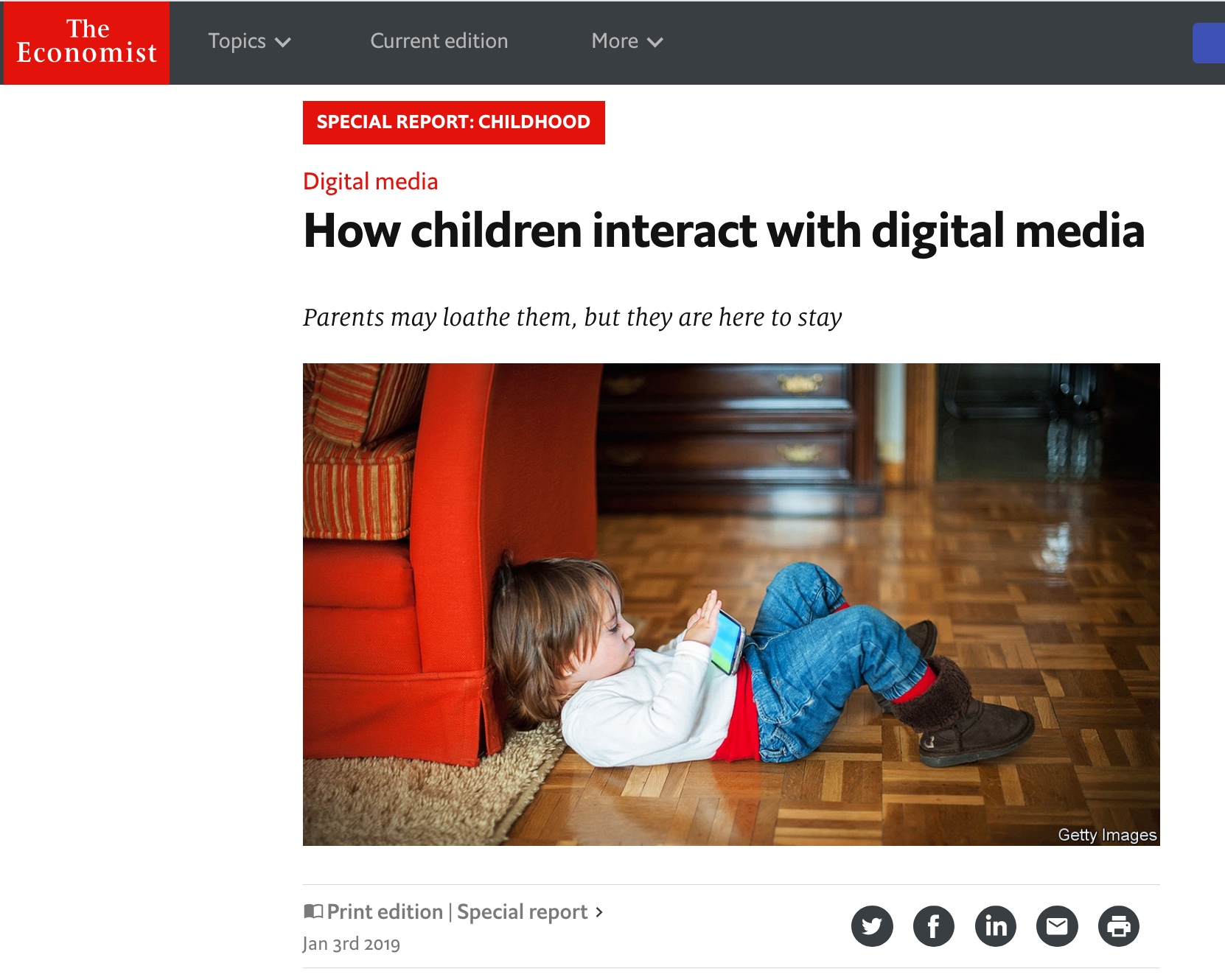 "Some of the risks attached to internet use have barely started to
be considered. For example, children are already generating large
amounts of data, beginning when they are still in the womb as
their parents put the first scan of the baby online, and continuing
across multiple channels as the child is constantly recorded interacting
with devices and programmes. These data can never be retracted.
They will be available to third parties and there is no telling
how they will be used. The effects may not become clear until
many years after the event, says Monica Bulger of Data & Society, a
research organisation that studies the social and cultural impact
of data-heavy technologies."
Pediatrics, November 2017

"Diverse international perspectives show that children can benefit greatly from digital opportunities. Despite widespread optimism about the potential of digital technologies, especially for information and education, the research reveals an insufficient evidence base to guide policy and practice across all continents of the world, especially in middle- and low-income countries. Beyond revealing pressing and sizeable gaps in knowledge, this cross-national review also reveals the importance of understanding local values and practices regarding the use of technologies. This leads us to stress that future researchers must take into account local contexts and existing inequalities and must share best practices internationally so that children can navigate the balance between risks and opportunities. This article documents the particular irony that while the world's poorer countries look to research to find ways to increase access and accelerate the fair distribution of digital educational resources, the world's wealthier countries look to research for guidance in managing excessive screen time, heavily commercial content, and technologies that intrude on autonomy and privacy. We conclude by recommending that digital divides should be carefully bridged with contextual sensitivity to avoid exacerbating existing disparities; that the provision of technological resources is complemented by a focus on skills enhancement, for teachers as well as students; that a keen eye is needed to ensure the balance of children's protection and participation rights, with protection now including data abuses as well as safety considerations; and that we forge collaborations among all stakeholders in seeking to enhance children's digital opportunities worldwide."
New Media & Society, January 2017

"That children have a right to protection when they go online is an internationally well-established principle, upheld in laws that seek to safeguard children from online abuse and exploitation. However, children's own transgressive behaviour can test the boundaries of this protection regime, creating new dilemmas for lawmakers the world over. This article examines the policy response from both the Global North and South to young people's online behaviour that may challenge adult conceptions of what is acceptable, within existing legal and policy frameworks. It asks whether the 'childhood innocence' implied in much protection discourse is a helpful basis for promoting children's rights in the digital age. Based on a comparative analysis of the emerging policy trends in Europe, South Africa and the United States, the article assesses the implications for policymakers and child welfare specialists as they attempt to redraw the balance between children's online safety while supporting their agency as digital citizens."
Victims are Not Virtual: Situation Assessment of Online Child Sexual Exploitation in South Asia, Commissioned by UNICEF South Asia,
November 2016.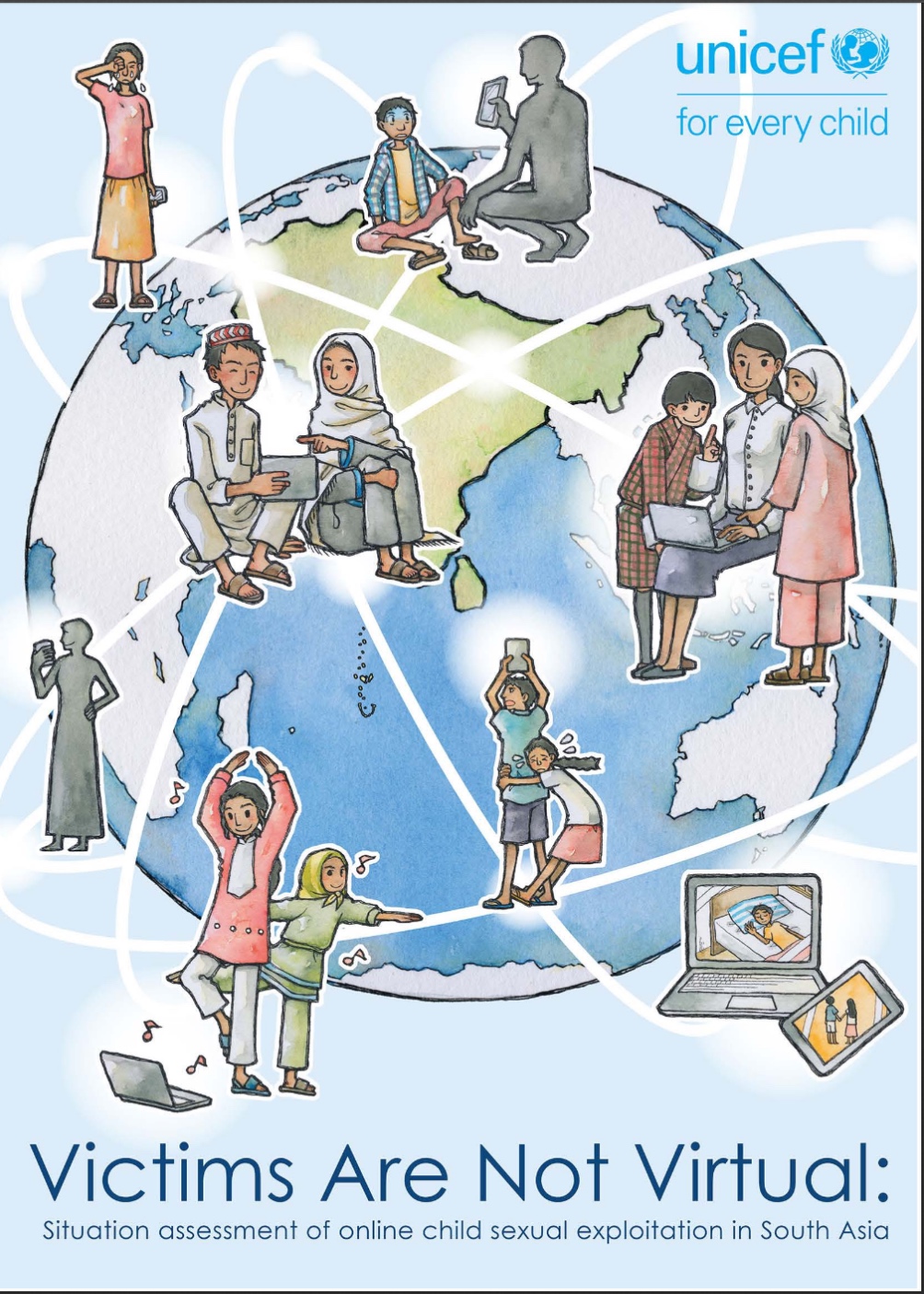 "Access to and use of the Internet introduces youth to a global, borderless network that holds promise for education, information access and positive social connections. Yet it also poses the risk of harmful encounters. As a growing number of youth go online in South Asia, at stake, and the focus of this report, is the extent to which participation online may expose young users to harmful contacts and interactions. Over a six-month period in 2016, 288 stakeholders from Bangladesh, Bhutan, Maldives, Pakistan and Sri Lanka contributed their observations and expertise to a UNICEF-sponsored situation analysis of the online sexual exploitation of children. Combined with extensive literature and legislative review, the analysis examined the nature of online child sexual exploitation across different national contexts and assessed country-specific responses.An early finding in stakeholder discussions was that the online and offline worlds could not be separated. This merging is not only because individual instances of abuse can begin offline and be taken online or vice versa, but also, more importantly, because the response frameworks that support the victim occur locally, regardless of whether the crime happened online or off. The interventions are the same, and youth who are abused either offline or online will require services from the same providers."

Child Online Protection in the MENA Region, commissioned by UNICEF Middle East and North Africa, 2016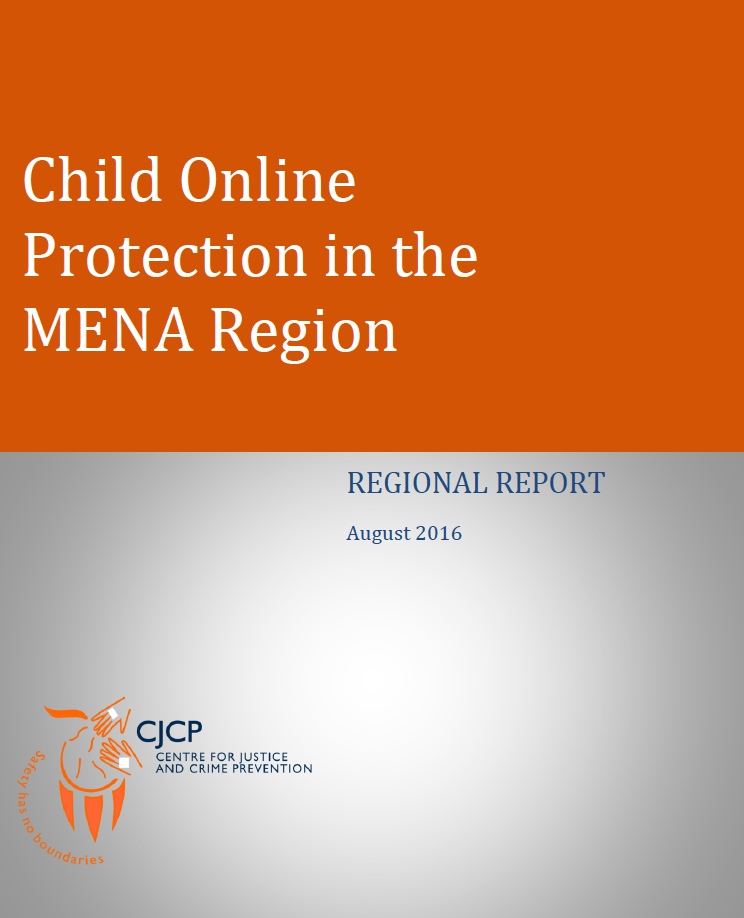 This report addresses the current state of protection against online child sexual exploitation in the region of the Middle East and North Africa (MENA)—focusing on the four target countries of Algeria, Egypt, Jordan, and Morocco. This research is a synthesis of a broad international literature review with data collected through in-country visits; it relies on an international child protection framework derived from the Committee on the Rights of the Child (CRC), the conventions of the Council of Europe (COE), and the recent framework proposed by the #WeProtect Global Alliance to end the sexual exploitation of children online.
 
Our findings indicate that each country among the target nations have their own challenges with the new requirements of child protection. Widespread cultural sensitivities, particularly relating to discussions around sex, make it difficult to assess or move public opinion on, or gauge actual experiences of, online sexual exploitation of children. The newness of online technologies results in the piecemeal application of laws written for offline crimes. And perhaps most notable for the future of child protection work, the lack of national coordination mechanisms means a general lack of clear data on the prevalence of online crime, the effectiveness of current protection efforts, and the true nature of ICT use by children. Furthermore, given that the internet knows no national borders, it is becoming increasingly important for international coordination mechanisms to be put in place to allow for investigation of transnational crimes, and for national laws to be made as consistent as possible in line with international legal benchmarks.
 
These challenges are not unique to the MENA region – sexual taboos and legislative lag are international phenomenon – but this report (and the accompanying country reports) attempts to articulate them in specific, local terms and to propose concrete steps to strengthen child protection in each of the countries visited.
Related work:
Child Online Protection in the MENA Region Literature Review, August 2016
Algeria Country Report, April 2016
Egypt Country Report, August 2016
Jordan Country Report, April 2016
Morocco Country Report, April 2016
Digital Media Learning Podcast, November 2015

"…when harnessed appropriately – digital tools can help promote human development, by closing gaps in access to information, speeding up service delivery, supporting educational and health outcomes, and creating new entrepreneurship opportunities. The power of technology to jump across borders and time zones, to join the once disparate, and to foster social connectedness, has provided the means for the children and young people of today to participate in a global society in ways previously not possible. Sadly, there are also new or evolving risks – exposure to violence; access to inappropriate content, goods and services; concerns about excessive use; and issues of data protection and privacy. As it becomes increasingly difficult to draw the line between offline and online, it is necessary for us to examine how this changing environment impacts the well-being and development of children and their rights."
Joint response to UN Office of the High Commissioner for Human Rights, October 2015

"While existing efforts to protect children online are well ­intended, in practice, they might inadvertently infringe upon children's other rights. Responses to­ date ­ both at a policy level and within the household­ are largely based on perceptions of the dangers of the Internet, rather than the evidence. It is undoubtedly important to recognise the need for protection; but in devising responses to the risk of child sexual exploitation we must consider a) the range of other rights potentially undermined by exclusively protectionist policies, b) the evidence for specific risks of harm to particular groups, and then promote c) evidence ­based interventions. Policies designed to address sexual exploitation in relation to ICTs should respect the full set of rights enshrined in the UN Convention on the Rights of the Child. Particular care is needed to ensure that any one right (e.g. protection from sexual exploitation) is not seen to automatically justify restrictions on other rights (e.g. right to privacy, to access information, and to freedom of expression). In the face of rights violations as a result of inappropriate protection policies,children should have access to justice."
London School of Economics & Political Science, June 2015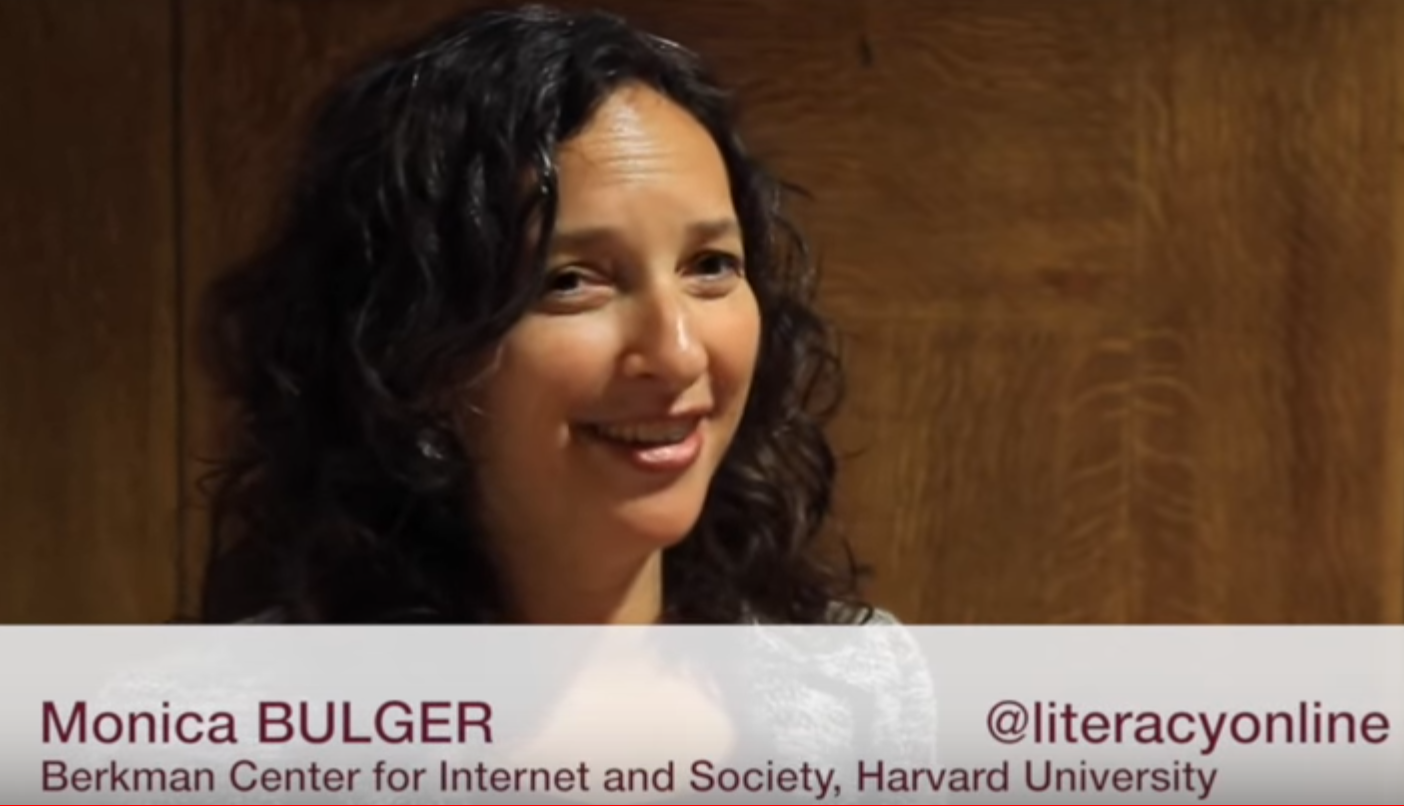 "The area that most concerns me is learning. We haven't leveraged the potential for learning online. I think a lot of time is spent on entertainment and we could somehow harness that into something more productive and meaningful for children." International experts in the area of child rights, child protection, internet and mobile technologies governance and applied and policy-relevant research discuss what concerns them the most about children's internet use and express their views on the areas of the Internet's biggest contribution.
Information, Communication, & Society, 2015

"Intense media and policy focus on issues of online child protection have prompted a resurgence of moral panics about children and adolescents' Internet use, with frequent confounding of different types of risk and harm and little reference to empirical evidence of actual harm. Meanwhile, within the academic literature, the quantity and quality of studies detailing the risks and opportunities of online activity for children and young people has risen substantially in the past 10 years, but this is also largely focused on risk rather than evidence of harm. Whilst this is understandable given the methodological and ethical challenges of studying Internet-related harms to minors, the very concept of risk is dependent on some prior understanding of harm, meaning that without efforts to study what harms are connected with children's online experiences, discussions of risk lack a strong foundation. This article makes a key contribution to the field by reviewing available evidence about the scale and scope of online harms from across a range of disciplines and identifying key obstacles in this research area as well as the major policy implications. The findings are based on a review of 148 empirical studies. Results were found in relation to main types of harms: health-related harms as a result of using pro-eating disorder, self-harm or pro-suicide websites; sex-related harms such as Internet-initiated sexual abuse of minors and cyber-bullying."
Researching Children's Rights Globally in the Digital Age, April 2015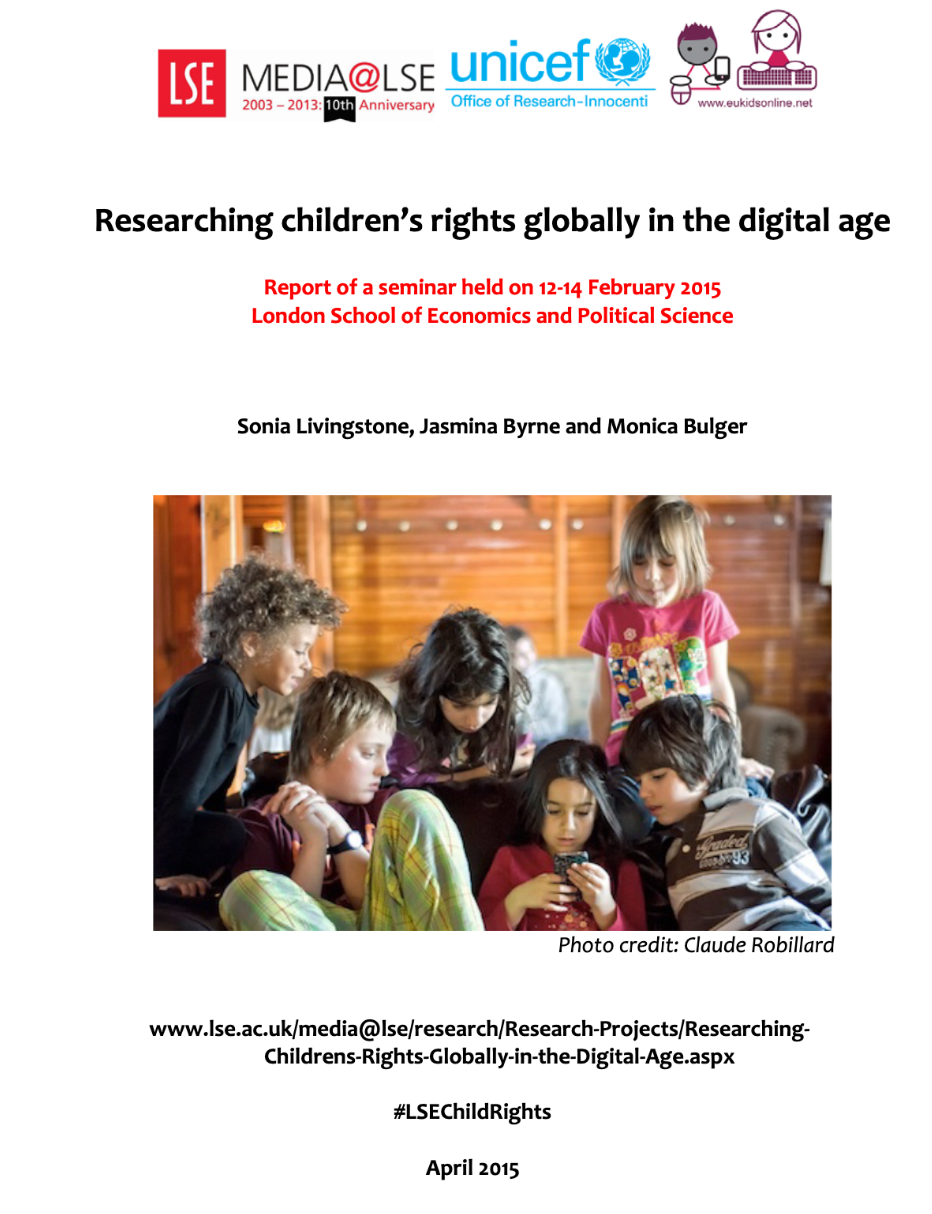 "What research is and should be conducted to understand whether and how children's rights are being enhanced or undermined in the digital age, on a global basis? What research do stakeholders need, and how can this be provided? To address such questions, the meeting extended the collaboration among the London School of Economics and Political Science (LSE), EU Kids Online and UNICEF. To examine whether and how children's rights to provision, protection and participation are being enhanced or undermined in the digital age, 35 international experts met for three days at the LSE to share their collected expertise."

Sexting, Minors, and US Legislation: When Laws Intended to Protect Have Unintended Consequences. Internet Monitor 2014: Reflections on the Digital World, January 2015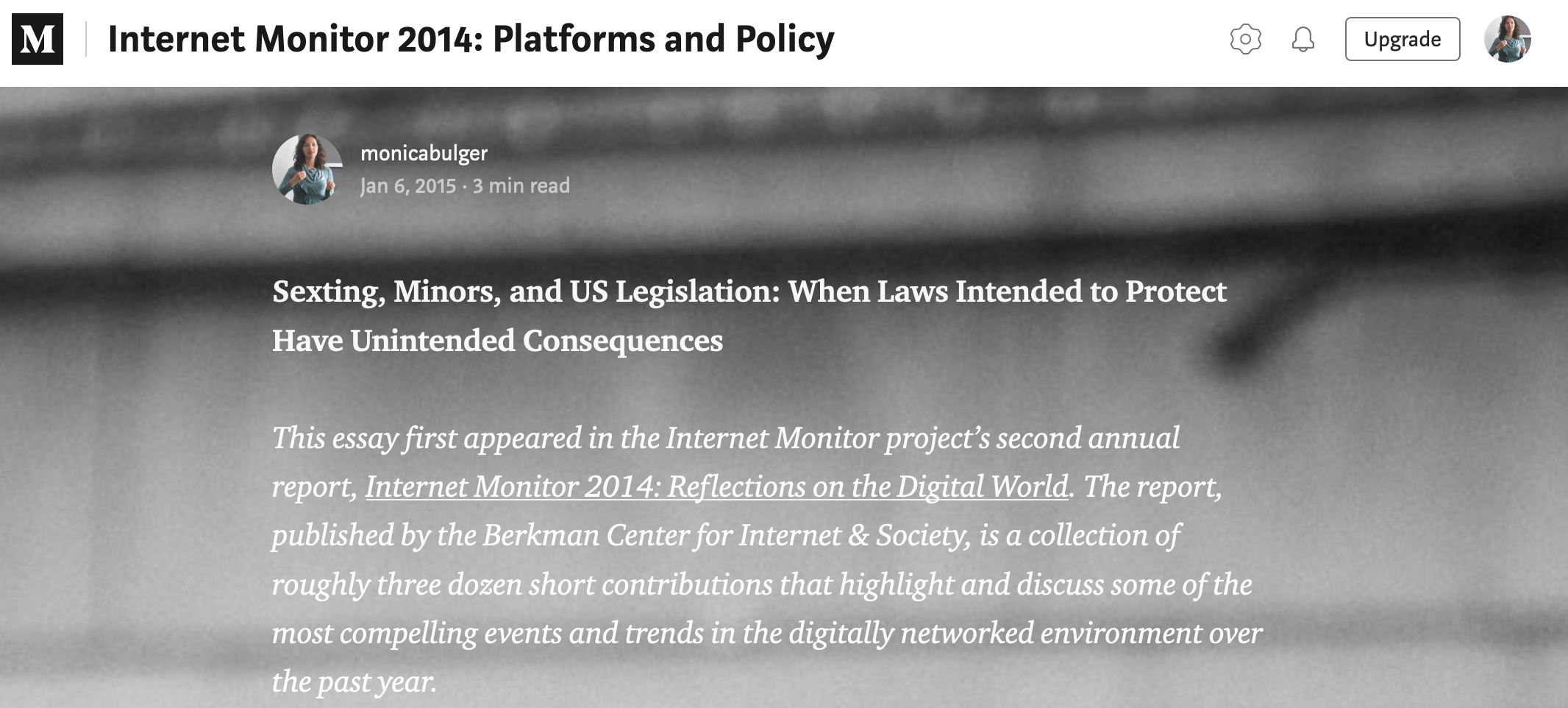 "Existing US law prohibits the production, possession, sale, and distribution of child pornography, defined by Section 2256 of Title 18, United States Code as "any visual depiction of sexually explicit conduct involving someone under 18 years of age." Penalties under child pornography laws can include fines, imprisonment, and registry as a sex offender. What is unclear in practice, however, is distinguishing between child sexual abuse images — in which the image is taken and distributed without consent or through violence or coercion, and which seem to be the intended target of existing law — and self-generated images taken by minors and willingly shared with other minors. Given the legislative grey area surrounding sexting, teens are potentially at risk of criminal charges for what has become a widespread practice. The relevance and applicability of laws intended to protect minors from the production of child sexual abuse images need further investigation in light of new practices of image sharing among teens."
IEEE, 2015

"We review current technical and social barriers to COPPA compliance for popular online services aimed at children. We show that complying with COPPA has proven difficult for developers, even when a genuine attempt was made. We investigate reasons for this lack of compliance and identify common causes: specifically, difficulties obtaining verifiable parental control as well as supply mechanisms for parents to understand, review, grant access and monitor collection of their children's personal data. Unless part of online services, mobile apps do not need to comply with COPPA. We identify 38,842 (out of 635,264) apps which are self-described (by their developers) as suitable for young users. Half of these apps have the ability to collect personal data and only 6% present a privacy policy. Parents often have little to no knowledge or understanding of what data is accessed. Due to Android's design they must grant all access regardless of permission type or need. Among the self-described apps we find different levels of content rating; these are not a reflection of the content of the app itself but rather the required access to personal data. We present a design for a new framework aimed at helping mobile apps to comply with COPPA. This framework aims to simplify the process for developers by providing appropriate tools and mechanisms to help comply with the COPPA rules while presenting an easily understandable interface for parents to review, navigate, understand and then grant access to their children's personal data."
Response to the Ten Year Review of WSIS Implementation, September 2014

"Often 'people-centred' tends to assume a competent and responsible adult 'user' who lacks only access and a little skills training to engage online. As governments promote ICT so that businesses can compete in the global economy, they are formulating policies that rarely consider children's needs explicitly. Children's needs tend to be ignored or left to parents,or considered non-critical because children are supposedly 'digital natives', already more expert than adults. Since the main driver of technological innovation is economic, many emerging legislative and regulatory structures barely mention children. Provision for the general public is assumed to suffice when applied to young users, even though such assumptions are rarely considered sufficient offline. There is much room for improvement to achieve the 'people-centred, inclusive and development-oriented Information Society' for children. Current protection and provision for children are fragmented and unevenly implemented, even in developed countries, and largely non-existent when considered globally."


A Global Agenda for Children's Rights in the Digital Age: Recommendations for Developing UNICEF's Research Strategy,
UNICEF & London School of Economics and Political Science, 2013